How to Work Out Like Webster University's Champion Chess Team
Posted By Lindsay Toler on Fri, Feb 20, 2015 at 6:00 am
Chess can be a grueling mental game, especially the way the championship-winning team at Webster University plays.
During competitions, players face off for as long as seven hours per match, two matches per day. Back-to-back fourteen-hour days hunkered over a chessboard would make anyone break a sweat -- and not just a mental one.
"It's very physical," says Paul Truong, the team's marketing director. "People don't realize that."
Before working out, teammates get their blood pumping on the rowing machine.
That's why coach Susan Polgar has her team combine chess and Crossfit, the popular high-intensity workout that mixes Olympic-style weightlifting, gymnastics, calisthenics and other exercises, to build strength in both mind and body.
"It started with Susan [Polgar]," says Truong, the Hungarian-born chess Grandmaster who is friends with Crossfit's founder, Greg Glassman. Polgar makes a point of keeping her chess players physically fit. "That's one of the reasons why a lot of the top players in the world come to Webster. They understand [Polgar is] one of the most knowledgeable coaches in the world. Whatever she says, they follow it."
Jake Banawa faces Vitaly Neimer in the first chess match of the day.
But Crossfit? That's a particularly taxing workout, even for athletes, troops and exercise buffs.
"In the beginning, it wasn't easy for them," Truong admits. "It's still not easy. But it's very, very important for them. They see the effect of it when they compete."
It must be working. The chess team has never given up its No. 1 ranking in Division I college chess since its inception in 2012, and it has won the last five Final Four Championships and Five PanAm InterCollegiate Championships (plus two from TTU for 7 straight national championships).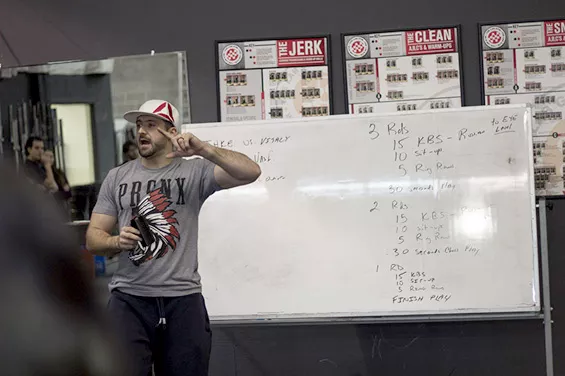 Mike Walerius, co-owner of Crossfit26 gym, explains the exercises of the day to the team.
Here's how the team combined chess and Crossfit for a workout earlier this month:
Decide which two players will go head to head. Put two minutes on the chess clock with no increment or delay.
Repeat this exercise three times: fifteen kettlebell swings, ten sit-ups (not crunches, you cheater), five ring rows (like a pull-up, but with gymnastics rings).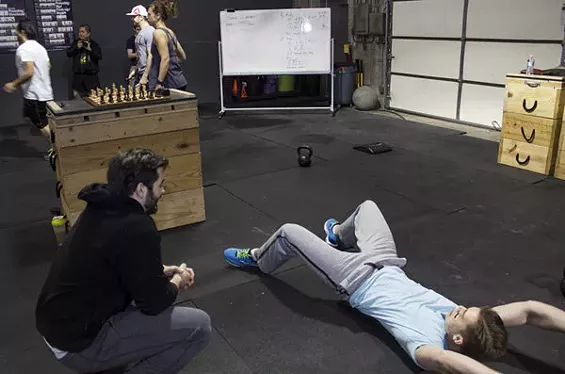 Jake Banawa rushes off to the ring rows, while Vitaly Neimer finishes his sit-ups.
Whoever finishes first picks a color on the chess board and starts the clock. Play for 30 seconds.
Michael Walerius, (left) gym co-owner, faces Vasif Durarabayli (right).
Repeat the exercises from step 2 twice.
Thirty more seconds of chess.
Play chess until someone gets checkmated or loses on time.
You've just completed 90 kettlebell swings, 60 sit-ups, 30 ring rows and a game of chess! Are you sweating yet?